Hollywood Smile veneers are an excellent option for individuals looking to enhance the appearance of their smiles. These thin, custom-made shells are designed to cover the front surface of teeth, effectively transforming their shape, size, color, and overall appearance. Whether you have teeth that are discolored, chipped, cracked, misaligned, or have gaps between them, veneers can provide a natural-looking solution. Made from high-quality materials like porcelain or composite resin, veneers offer durability, stain resistance, and a seamless integration with the rest of your teeth. With the ability to improve both the aesthetics and function of your teeth, dental veneers can give you the confidence to smile freely.
The process of getting hollywood smile involves a series of steps to ensure a precise and customized fit. It begins with a consultation where our experienced dentist will evaluate your oral health, discuss your smile goals, and determine the suitability of veneers for your specific case. Digital impressions of your teeth will be taken and used to create personalized veneers that match your desired shape, size, and color. In some instances, a small amount of enamel may be gently removed from the teeth to accommodate the veneers. Temporary veneers may be placed while the permanent ones are being crafted. Once ready, the custom veneers are bonded to the front surface of your teeth using a strong dental adhesive, resulting in a beautiful and natural-looking hollywood smile. With proper care and maintenance, dental veneers can provide long-lasting results, allowing you to enjoy a radiant and confident smile for years to come.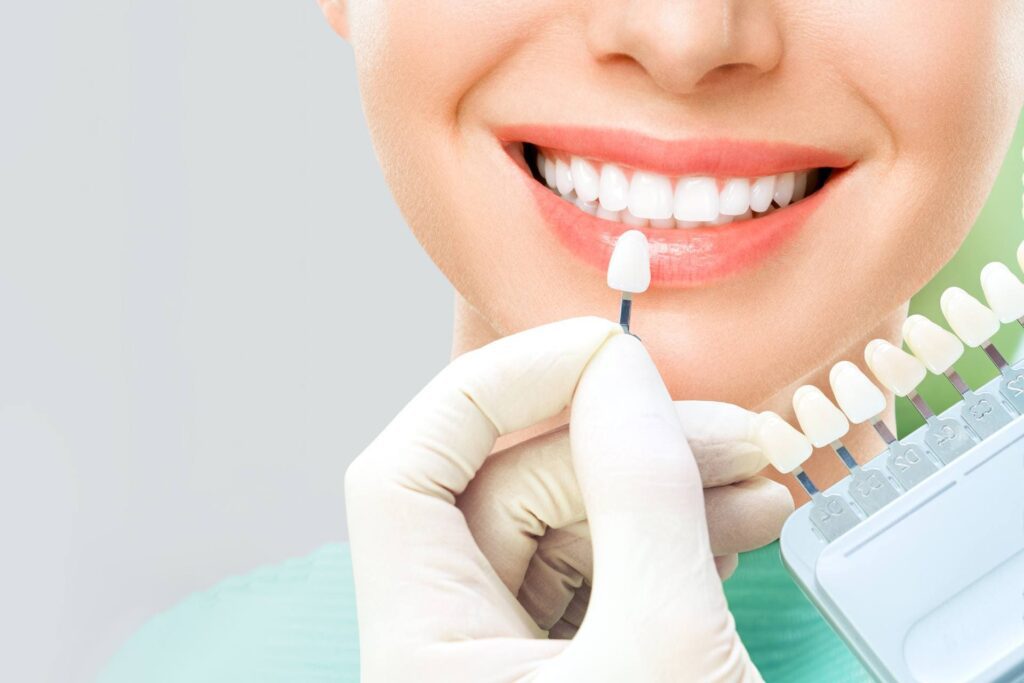 At Al Hana Modern Medical Center, we offer customized dental veneers tailored to your individual needs and preferences. During your consultation, our experienced dentists will assess your oral health, discuss your smile goals, and create a personalized treatment plan. Using advanced digital imaging technology, we will create a precise 3D model of your teeth, allowing us to design veneers that will perfectly enhance your hollywood smile. With our attention to detail and commitment to excellence, you can trust that your veneers will fit comfortably and deliver outstanding results.
Why Choose Us for Dental Veneers?
Experienced and Skilled Dentists: Our dental practice boasts a team of highly experienced and skilled dentists who specialize in cosmetic dentistry and veneer treatments. With years of training and a commitment to staying updated with the latest techniques, our dentists have the expertise to deliver exceptional results. You can trust that your veneers will be carefully designed, precisely placed, and customized to enhance your unique smile.

Personalized Treatment Plans: We believe in a personalized approach to dental care. When you choose us for dental veneers, we take the time to understand your smile goals, assess your oral health, and create a customized treatment plan. We consider factors such as your facial features, tooth shape and size, and desired outcome to ensure that your veneers achieve natural-looking results that complement your overall appearance.

State-of-the-Art Technology: At Al Hana Modern Medical Center, we invest in the latest dental technology to provide you with the highest standard of care. From digital imaging and 3D modeling to computer-aided design and manufacturing (CAD/CAM), our advanced tools enable us to create precise and custom veneers that perfectly fit your teeth. This ensures optimal comfort, aesthetics, and long-term durability.

Quality Materials: We only use top-quality materials for our dental veneers. Whether you choose porcelain veneers or composite resin veneers, you can trust that they will be crafted from durable and aesthetically pleasing materials. Our goal is to provide you with veneers that not only look natural but also withstand the test of time, giving you a beautiful smile for years to come.

Patient-Centered Care: Your comfort and satisfaction are our top priorities. We strive to create a warm and welcoming environment where you feel at ease throughout your veneer treatment. Our friendly team will address any concerns or questions you may have and ensure that you are well-informed and comfortable at every step of the process. We are dedicated to providing you with an exceptional patient experience.